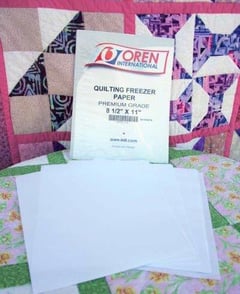 If you're a crafty person by nature, or if you're looking for a new project for you or your friends and family to try, you're in for a treat!
Imagine being able to screenprint your own t-shirt, add a vibrant design to a plan quilt or throw pillow, or design personalized wall decor in just minutes, all without spending a fortune. That's what you get when you learn to use freezer paper stencils.
This craft project is quick and simple to do, it's affordable, and it's super versatile too! There are actually two different, but equally effective, methods you can experiment with depending on what kind of finished product you have in mind.
So, let's start with a basic how-to, and then check out some inspiring examples!
The traditional freezer paper stencil
The original method requires a piece of freezer paper, an iron, an X-Acto Knife, whatever fabric you want to stencil on, and paint that's designed for that kind of surface. A longer supply list to make the job even easier can be found here.
Freezer paper quilting patterns
Freezer paper also makes a fantastic pattern for quilting, especially when working with free-flowing designs that may cross over squares or that require intricate maneuvering of the material to perfect the details. Here's a quick breakdown with pictures for inspiration.
Ready to start your quilting project? Order your quilting freezer paper sheets easily on Amazon.
Great examples of creative freezer paper stenciling projects
Have fun getting your craft on using freezer paper stencils! Send us your project photos, we'd love to see them. To learn more, be sure to read the entire article on freezer paper stenciling by clicking the link below. And if you run out of freezer paper, here's a great place to get some more so you can keep on creating!