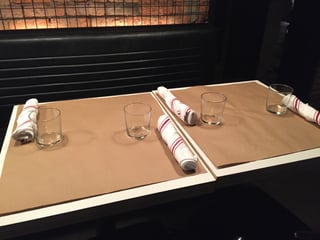 Running a restaurant can be a lot of fun, but there's no doubt it's also hectic. The day may seem to never slow down, and there's always some new fire to put out or prevent. To add to all this excitement, there are historically slim profit margins that require staying on top of the books and creating efficiencies to remain successful.
Restaurant owners are constantly on the lookout for ways to save time and money while maintaining the very best quality and service for their customers. On top of that, restaurants know how important it is to periodically refresh branding through a new logo, color scheme, or other aesthetic updates that impact a customer's dining experience.
One decision that a number of innovative restaurants are making to accomplish this is switching from traditional linen tablecloths to custom paper table covers. Here are three reasons why:
Tabletop paper costs less
To start with, linen tablecloths can be a significant expense. The upfront purchase, the cost to continually launder them, to rent them, or to have a service pick up and deliver regularly all add up. There's a notable budget put toward cloth table coverings to keep tables looking great for customers.
On the other hand, restaurant table paper costs less per table to purchase, especially if ordered at a high volume, and there is no cleaning or rental cost required. Instead, they are disposable and easily replaced. What's more, they are gaining popularity as a trendy feature restaurants are incorporating for a rustic feel.
Tabletop paper is better for the environment
While pure, untreated, organic linen tablecloths are among the most biodegradable fabrics available, they're also quite expensive in comparison to the polyester-blends and other synthetic fibers commonly used in restaurants. Those materials are not as easy on the environment and require energy to launder.
On the other hand, butcher paper or kraft paper table covers are extremely biodegradable. And, there are options to choose between both virgin paper and natural or recycled paper to carry out your restaurant's environmental goals.
Tabletop paper takes less time
Between unfolding, pressing, laying out, laundering, refolding, and storing linen or other cloth table coverings, this seemingly small part of the restaurant experience can actually require a lot of time. And as restaurant owners well know, time is a resource that doesn't come cheap in the food service business.
By contrast, paper table coverings, placemats, or table runners can be ordered with custom sizing or fitted in seconds and removed just as quickly. Since they're disposable and require no cleaning, refolding, or transportation to and from another facility, employees can easily choose the next clean table covering in the stack and move on.
For restaurants looking for practical ways to save time and money, it may be time to jump on the tabletop paper trend. Take your paper table cover one step further with custom branding of your logo, artwork, message and more. Contact us to learn more and click the button below to see great examples of dramatically improved restaurant branding.