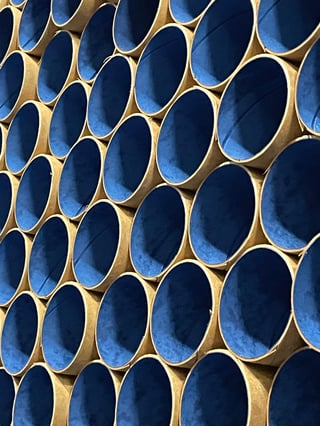 There are quite a few packaging and shipping options available these days. Yet when it comes to protecting items for shipment, many consumers literally don't think outside of the box.
One size certainly doesn't fit all anymore for packaging and shipping needs, but many consumers and businesses alike aren't always aware of the many options that exist and the applications for which they may be best suited.
For example, paper tubes provide a great option for shipping many non-conventional items. Tubes are versatile because they can easily accommodate items of different sizes that don't always fit into traditional packaging. Unlike standard shipping boxes and envelopes, tubes can be used for large, small, long, and short items.
Packaging that Stands Out
Besides versatility in functionality, tubes can be custom branded to make a product stand out above other brands. Global ecommerce platform Etsy is a prime example of a company that's leveraging the marketing and branding benefits of unique and customized packaging materials, including tubes.
Etsy shop owners are well-known for their inspired packaging. For the makers, buyers, and sellers on Etsy, unique packaging can be the difference in getting, and keeping, customer attention.
Whether you own an Etsy store or a business with larger shipping needs, tubes can meet a number of demands.
Young Living Essential Oils is also benefiting from tubes for shipping. Tiny paper tubes meet the company's challenge of shipping thousands of small containers of essential oils. The small tubes protect oils from damage or breaking during shipment. Tubes can be manufactured in a range of sizes. So whether you're shipping Etsy goodies, essential oils, or the newest PENN Spinfisher V Surf Combo fishing pole from Bass Pro Shop to your favorite uncle, there is a tube that can accommodate it.
Branding for any Occasion
Branded tubes can also be a great addition to your business or individual shipping during the holiday season. Branded tubes can be printed with holiday colors and messages to help your business stand out. Tubes can also help encourage holiday gift purchases that might have otherwise been overlooked because of the challenge and expense of shipping them.
No matter the season, branding is an important packaging detail to help make your product memorable. Whether for personal or business use, tubes can be branded using the materials, patterns and colors you choose in order to achieve a desired look. Shipping with tubes can also help businesses save money by eliminating the use of oversized boxes that cost more to ship and also waste paper.
At Oren International, we manufacture tubes and cores for a variety of different end uses. We're truly your one-stop shop, using all of the components needed for the production of tubes, including top ply, bottom ply, inside ply's, as well as specialty components and custom printed papers. Branded inner and outer ply, which we can print with your desired logos and colors will help to raise your brand awereness. Our tubes are available in white, black and brown and can be customized using flexographic printing technology.
If you'd like to learn more about how Oren can help you save money, reduce waste, and create a powerful marketing and branding message for your company with shipping tubes, contact us today.