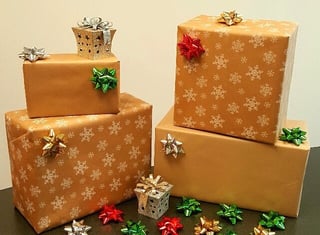 As we're getting closer to the end of the year, you're probably watching a pile of presents grow in the back of a closet or in your attic. If you're like most of us, you may also be wondering about when you will have the time you need to sit down and wrap all those boxes.
While we can't make it easier for you to wrap up those presents, we can help you add some flare to wrapping paper and make the act of gift wrapping more fun. In fact, any time you need to wrap gifts throughout the year, we can help. Interested?
See how printed kraft paper can make incredible gift wrapping possibilities accessible:
Can you use personalized wrapping paper?
How special would it be if each one of your children could have presents wrapped in paper with their own name printed right on it? Or maybe a note from Santa? Those are the kind of details lifelong holiday memories are made from.
Or, what if your business could offer branded or otherwise customized wrapping paper for any gifts purchased at or shipped from your store? What could that do for your branding and marketing efforts, both this holiday season and heading into next year?
Custom printed kraft paper can offer these possibilities. Available in brown, white or black, or made from eco-friendly recycled material, kraft paper is inexpensive and versatile. With the addition of custom flexographic printing that makes even small volume runs cost effective, you can experiment with a variety of personalization or branding efforts.
Do you do a high volume of gift sales?
If your business sells a high volume of items that people are purchasing as gifts, it makes sense to add an additional profit center by offering gift wrapping services right there at the store or as part of the handling process prior to shipping.
To make this service valuable and attractive to the customer, while keeping costs under control and ensuring it remains profitable, consider using printed kraft paper in more generic decorative options that would appeal to a wider audience.
For example, you can choose seasonal color schemes and common decorative motifs like Christmas trees, Easter baskets and bunnies, or birthday cakes. Or, perhaps you can choose images and words that are iconic of where your store is located (like the Hollywood sign or the Statue of Liberty) or the customers your store caters to (like a superhero theme for a comic book store.)
By offering a few different options to your customers, you can provide them some level of customization as well. Using printed kraft paper, you can keep a healthy stock of each variety on hand without investing too much, and restocking is quick and easy.
The ultimate personalization: hand decorated wrapping paper
Another attractive option - especially if you enjoy crafts - is to use plain white or brown kraft paper to wrap gifts, then get creative with paint, crayons, markers, collage, ribbons, or any other decorating option that appeals to you and speaks to the person you're wrapping the gift for.
An added tip to get children involved in the process: encourage them to have fun decorating wrapped gifts for loved ones, as and that extra effort and personal touch will surely make the gift that much more appreciated.
If any of these ideas have sparked your interest or gotten your creative juices flowing, let us know. We'd love to help you bring your ideas to reality and transform your gift wrap. Contact us to learn more.