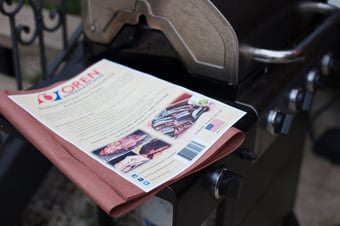 Spring is just around the corner, and with it comes the kickoff of the outdoor cooking and dining season.
If you're a barbecue enthusiast, you've probably taken note of the pink butcher paper trend that has become popular over the past several years. In fact, you may want to start using pink paper yourself.
And who could blame you? After all, pink paper (also known as peach paper) has become synonymous with authentic, delicious Texas BBQ, thanks to James Beard-award-winning barbecue aficionado Aaron Franklin.
Franklin says he began using paper because it's cheaper than foil and actually works better when it comes to preparing his world-famous brisket, which he serves at his Austin lunch hot spot, Franklin Barbecue. No question Franklin is on to something, considering patrons wait upwards of five hours in line for a taste of his famous brisket, ribs and pulled pork.
Whether you're looking to give your restaurant a boost, or simply improve the "street cred" of your own brisket at the neighborhood BBQ, pink butcher paper is just what you need.
When a roll is the best option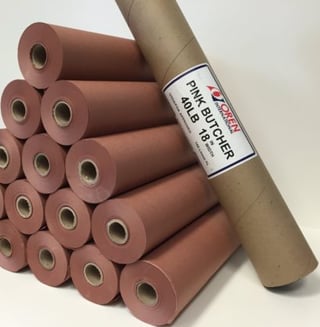 When it comes to pink paper, there are two main options you can choose from — rolls or sheets. Determining which is right for your BBQ needs comes down to how you want to use the paper, including how much meat you're going to be smoking or wrapping.
If you're using pink paper in a commercial operation, as the owner of a BBQ restaurant for example, you'll want to think about volume in terms of both cooking and serving food in your establishment.
Whether you want to package, cook, serve or do all three of those things with pink paper, commercial-sized rolls are your best option.
Commercial rolls offer a variety of sizes, with standard widths of 15 inches,18 inches, 20 inches and 24 inches. Rolls are usually sold in lengths of 1,000 feet, however, they can also be custom-sized to fit particular needs.
Pink butcher paper sheets: The envy of the neighborhood BBQ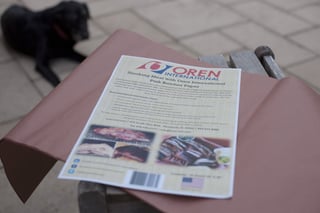 For those that are simply looking to host a barbecue for friends and family (and ideally win the approval and envy of neighbors for blocks) commercial rolls would be overkill and smaller, consumer-sized rolls, or pre-cut sheets will do the trick.
Either of these are good options, depending on the size and quantity of food you're preparing.
Individual rolls and sheets can be used to ease with cleanup, too. Besides helping you create envy-worthy brisket, rolls of paper can be used to cover tables. And delicious meats of all sorts can be served directly on individual sheets of pink paper.
Once you've got your own pink butcher paper in stock, the only question you have to answer is what you'll be cooking and serving with it to wow your customers or backyard guests.
Now is the time to order your pink butcher paper commercial roll, consumer roll, or consumer sheets today!