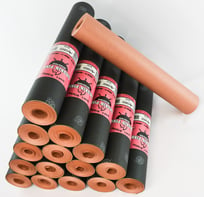 We now have an Amazon Store to fulfill all of your consumer paper product needs. It is a one-stop shop for our high quality Oren International food service, crafting and industrial paper products. We have several items that have achieved "Best Seller" and "Amazon's Choice" status. Take a look at what we have to offer, and see what all the fuss is about!
Sometimes a 1000' roll is too much. We have developed a line of our most popular paper grades, that are perfect for the individual consumer. The length of paper on each roll, and number of sheets in each bundle are just right for in-home use. Here are the items currently available.
Pink Butcher Paper: This has become the favorite cooking tool for smoking briskets to award winning status. It you want your smoked meats to be the envy of the neighborhood, get your hands on the original Oren pink butcher paper
White Butcher Paper: This paper has been the staple in every butcher shop and meat market forever. It is FDA approved, and can be used for wrapping sandwiches, covering tables and even arts & craft projects.
Natural and White Kraft Paper: These two are the most versatile papers to keep in your home. They can be used for everything from arts & craft, wrapping packages or decorating for the Holidays. Schools and churches use this type of paper for banners and projects.
Black Kraft Paper: Our Black Kraft is being used for custom picture framing, as well as craft and art projects. It is versatile, and make s bold statement when used for a sign or as a wrapping paper.
We hope that you will be able to enjoy our superior quality paper products, now that they have been engineered to these consumer-friendly sizes. We will continue to expand our product line on the Oren International Amazon Store, so keep checking back with us. Follow the link to see what we have to offer www.amazon.com/oreninternational