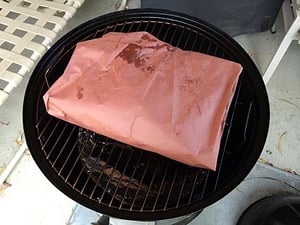 At 225 degrees, this little number definitely qualifies as hot.
Of course, we're talking about smoking a brisket. To create the perfect, mouthwatering, tender and delicious BBQ brisket, you need three items:
The perfect brisket

A high-quality smoker
The Perfect Brisket
A fresh brisket optimal for smoking is going to be a deep red color, marbled with bright white striations. The red is tender, fresh beef. The white, of course, is fat, which is vital to a smoked brisket because it helps keep the meat moist and tender during the long cooking process.
Usually, unless you're butcher does it for you, you will be trimming the brisket yourself. That means removing all the fat you don't need without eliminating it completely. It's a balancing act. Generally, it's best to leave about ¼ inch of the "fat cap" (the large surface layer that covers one side of the meat) in tact, but remove the rest of the surface fat, including the large section over the "point" of the brisket.
Expert Advice: Setting the diet aside, you're far better off leaving too much fat to ensure flavor and a juicy brisket than trimming off too much.
A High-quality Smoker
Once the meat is trimmed and seasoned to taste (with a dry rub, if you're going for the authentic Texas style) it's time to fire up the smoker.
There are a lot of different theories about what makes for the best brisket smoker, and to some extent it comes down to personal taste. Again, if you're going for the most authentic Texas brisket, you'll want to use mesquite and hickory which burn nice and hot and provide an awesome smoky flavor.
While the wood smoker and firebox is the most popular combination, plenty of BBQ champions can make a killer brisket in a charcoal, propane, or water smoker too.
The main thing your smoker needs to be able to do is maintain consistent, even, indirect heat over the long haul. This meat's going to be cooking for upwards of 5 hours (assuming you're using a standard size cut of between 8-12 pounds), possibly as long as 9 hours, so consistency and endurance are key.
You'll want to keep a close eye on the internal temperature of the beef for timing purposes. It will heat up quickly, up to around 165 degrees, then it will stall for a bit. It's not done! That's actually the sign that it's time for the star of our barbecue threesome to appear.
Pink Butcher Paper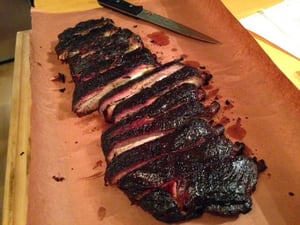 When the brisket stalls, probably 75% of the way through the process, pull out your handy roll of pink butcher paper and rip off a hefty strip. Next, wrap the smoking hot beef in the butcher paper to retain enough moisture and keep the right texture while also letting it breathe some. That way, it doesn't come out tasting like a pot roast, which can happen if you seal it in too tightly with foil.
The protective layer of butcher paper helps seal in the heat, though, and reduces the effects of evaporation. The result is a faster internal heating that gets you past the stall without forcing you to dry out the brisket, cooking it for hours longer.
And, as an added benefit, it makes for a great presentation when you open the wrapped brisket perfectly smoked in butcher paper.
So there you have it: the recipe for the hottest barbecue threesome in town.
To get started with your next prize-worthy brisket, get your pink butcher paper below and contact our paper experts with any questions.
Image curtosy of www.tvwbb.com