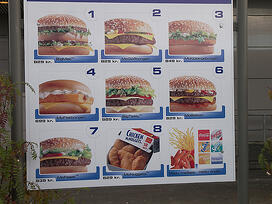 When someone goes to McDonald's, their expectations are clear: They are going to have a set number of items to choose from on the menu, the choices are going to cost roughly the same price as they did last time, and they're going to taste exactly like they did last time.
That's the experience McDonald's has created for us over the years, and they do it very well. No matter where in the country you travel, when you see those golden arches and pull in, you're going to have a generally consistent experience. And that's great for fast food. It means a consistent product, and consistently happy customers (if you're a fan of the Big Mac.)
But in an industry like paper converting, this kind of universal menu of options can be limiting. Paper converting companies, unlike fast food chains, need to be able to step away from the "standard menu" and effectively handle customization in order to provide a quality service that adds real value for their customers.
The Importance of Custom Paper Converting
As a manufacturer of certain paper products like tubes and cores or bags, your needs don't always fit neatly into pre-determined categories with set pricing, measurements, and other variables. Every job is going to be a little bit different and should be treated as the unique experience it is. Combining custom options across all five aspects of the paper conversion process, the possibilities are essentially endless:
Slitting/rewinding: 3/8" – 110" widths, 5" – 72" outside diameter, 1" – 12" core.
Sheeting: up to 65" x 72", including guillotine capabilities.
Flexographic printing: Up to three colors, tight registration, front and back side of web, up to 73" wide rolls.
Coating: polyethylene (pigmented or clear) or aqueous base.
Laminating: LDPE paper to paper
With an array of potential paper converting options at your disposal, your paper converter should offer more of an all-you-can-eat buffet than a fast food value meal. And that's where the real value lies when you get exactly what you need, quickly, efficiently, and at the right price.
At Oren International, our team is here to help with all of your paper needs. For more information, contact us to discuss custom paper converting today, and we'll be sure to put together the best set of options for you.
Photo credit: Adam Ness via Flickr