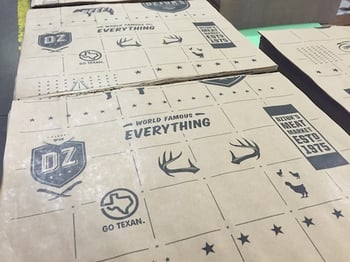 Life is short. And for business owners with a consistently full plate, time can feel even more fleeting. That's why there's no room for settling with second best. After all, as the saying goes: time is money. Wasting either one can be a major downfall for businesses.
To keep time and money under control, business owners create efficiencies, train employees, and upgrade technology, all to get a little more done each day for a little less cost. But one area you may not have considered as a way to save is with your paper converting company.
Here are five ways the right paper converters can save you time and money.
The right paper company helps you save
First of all, paper converting companies are also in business. They're facing the same time and money crunch as other business owners. If they're successful, it's because they're constantly searching for ways to remain efficient.
That means they're finding the best ways to operate. They're upgrading and maintaining their equipment constantly to ensure no unexpected delays due to mechanical failure. They're training and developing staff to improve speed and accuracy. Naturally, this continual improvement results in their customers saving time and money.
Economy of scale
If a paper converting company is doing all of the tasks mentioned above, then volume becomes an ally too. The bigger the paper converter is, usually the higher volume they are equipped to work with. Higher volume can mean more experience, and a better likelihood they have already handled a project like yours in the past. This cuts down on errors like uneven paper registration, sizing issues or printing problems that often come from lack of the right equipment or experience.
Customization
To get the most value for their paper converting needs, companies want the end result to be exactly in line with their project needs, not just as close.
By working with an experienced company that specializes in taking on custom paper converting projects, you get more value for your dollar, and end up with a solution that best fits your needs, avoiding the need to re-do the project down the road due to errors.
Precise slitting and sheeting
An experienced paper converting company with highly skilled staff and top notch equipment is going to be able to handle precise slitting and sheeting requirements on the first try.
Inaccurate slitting and sheeting accounts for most of the project-compromising errors in paper converting. By working with a company capable of getting the job right the first time, you can be sure you're getting results back as quickly as possible.
Custom logos, printing, or artwork
To get a custom printed paper job done efficiently and affordably, it's best to look for a company that can provide both paper converting and custom printing services. In that case, choose a paper converter who specializes in custom printing of logos, artwork, and other messaging needs, and get the whole job done under one roof. This will save time and money by getting the finished product back to you sooner without having to negotiate two separate contracts and handle shipping between providers.
To truly save time and money for your next paper order, look for experience, size, printing capabilities, and a focus on customization and accuracy. Find out more about how our paper converting company can bring your business' paper vision to reality, and contact us today.