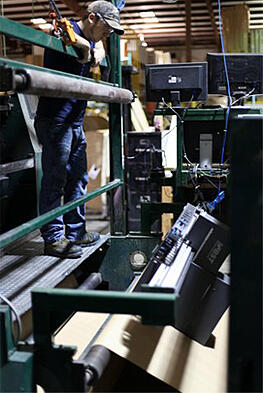 Flexographic printing has gained praise in a number of industries for its versatility and affordability. And when it comes to branding, the flexo printing process makes it simple for companies to enhance their message in many unique ways, and on various substrates that traditional printing presses can't accommodate, including plastic, film, and cellophane.

Flexo also works perfectly for printing on kraft paper and butcher paper, which are used in the food service and packaging and shipping industries among many others. Flexo inks have a low viscosity, which means faster drying time and faster production time as a result.
Flexo printing is the perfect solution to enhance branding and messaging across the spectrum of industries that use the above types of paper. If you're looking for unique branding solutions, flexo is the answer for adding everything from logos and messaging, to instructions or recipes, and any other creative messaging you can dream up for your business.
No matter how you use it, flexo printing will help you add character to your otherwise plain kraft, freezer, or butcher paper.
Here are some of the unique ways flexo printing can be used as a powerful branding tool across a variety of industries:
Food services (restaurants, delis, grocery stores). Whether it's kraft paper to cover the tables at your restaurant, FDA-approved butcher paper in which your food is served, or popular pink butcher paper for smoking your famous brisket, all of these are the perfect place for your restaurant or deli to add an effective marketing message. You can print something as simple as your logo, or something as complex as a discount offer for a subsequent visit, or a favorite recipe that's popular with patrons.


Retail services. Macy's, Michael's, and Acuvue are just a few of the brands that have benefitted from flexo printing on the kraft paper they use for packaging their products. In addition to branding, using recycled kraft paper for this type of packaging can also show your customers that you care about the environment — another powerful way to make a statement. Macy's is among the retailers that have launched green packaging initiatives, which they promote to customers.


Medical services. Paper is a necessity in the medical field for everything from packaging cotton swabs and gauze, to the rolls of paper used to keep exam tables and other surfaces clean and sterile. Unique branding on these items can help present a more personal touch throughout doctor's offices and clinics.


Floral industry. Brown kraft paper wrapped around flowers provides an organic look that is rustic and earth-friendly. And while paper around flowers has always been for functional purposes, it also provides the opportunity as a marketing medium to increase a shop's visibility. Floral shops can take their paper one step further by printing messages or images specific to occasions or holidays on the paper in which bouquets are delivered. Flowers are always special, but flowers for mom wrapped in paper with a "Happy Mother's Day!" message is the kind of thing that will make your shop stand out from others in your area.
Innovation and efficiency
At Oren, we use the most advanced video inspection printing system on the market, the Handyscan 4000, which ensures superior flexography quality control. The system's high-resolution digital cameras allow detailed monitoring of each print job in real time, and provides automatic print inspection and color monitoring and correction. Faster, more efficient production saves time and money and reduces waste caused by error.
We provide a number of flexo printing options to meet the versatile needs of every industry, including:
Up to 3-color printing with tight registration
The ability to print front and back of paper substrates
Printing on rolls up to 73 inches wide


If you want to uniquely position your business by adding images, logos, promotional messages, or artwork to kraft paper, butcher paper, and even freezer paper, Oren International can help. Contact us for a custom quote on our flexo printing services.