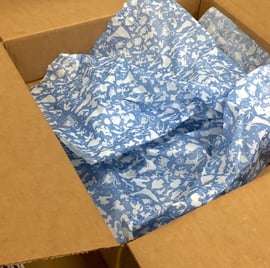 Packaging products used to be designed solely for efficiency and durability to protect contents during storage and shipping. But with more brand competition than ever, packaging materials have become an essential marketing tool of the trade.
Materials go far beyond paper, however, and many packaging substrates pose a challenge when it comes to printing. Flexographic, or flexo printing, solves those challenges and thus has become the de facto standard for packaging companies that want to print on a variety of paper substrates. When compared to other methods, flexographic printing offers more diversity, higher quality, and a lower cost to packaging companies.
Flexo uses quick-drying, water-based inks, and can accommodate printing on every packaging substrate from butcher paper, kraft paper, and chipboard, to linerboard, film, and even cellophane.
Flexo inks can print on many types of absorbent and nonabsorbent materials. But it's not just the ink used in flexo printing that makes it a superior option for printing on packaging substrates. The printing process itself is well suited for packaging applications. Flexo employs flexible photopolymer printing plates wrapped around cylinders on a web press. Inked plates with slightly raised images rotate around the cylinder at extremely high speeds — up to 2,000 feet per minute — transferring images onto the packaging material.
This means the sky's the limit when it comes to unique branding options for packaging companies. There is an obvious substantial benefit in being able to print a logo or other marketing message on every packaging material used in your operation.
If you're looking to add branding to your packaging materials, there are some universal quality standards to look for when selecting a flexographic printing partner:
They offer one-stop shopping.

Ideally your packaging materials supplier should be able to handle the customized printing of your brand message and logo on rolls as well as sheets, all for an affordable price. Not only is having a separate supplier and printer a hassle, it will end up being more costly in the end.

They use video inspection technology.

Advanced video inspection printing systems are crucial when printing on non-standard substrates such as those required by packaging operations. The best video inspection systems are those that feature high-resolution digital cameras to allow for detailed monitoring of each print job, in real time. Using video inspection reduces waste and ensures superior quality control in the flexo printing process so you can be confident your packaging materials will look great.

They can print color on two sides.

Gone are the days of drab and boring packaging materials printed only in black and white and only on a single side of a package. In an increasingly competitive market, your packaging and your message must stand out above the rest. Look for a flexo printing partner that offers color printing with tight registration so that colors look sharp, and that can print on both the front and back of your packaging material.

They can print across large surface areas.

In the packaging industry, rolls of substrate can be very large. That doesn't mean your printing options should be limited. Make sure to find a printing partner that can print across rolls that are wide enough to meet your specific needs.

They offer a wide range of low-viscosity inks.

Low-viscosity inks offer quick drying at high speeds and high production volumes. This is an absolute must in a flexo printing partner for packaging applications.

At Oren International we offer both the materials and printing technology to accommodate packaging suppliers from the smallest to the largest. We also use the most advanced video inspection printing system on the market, the Handyscan 4000. It not only meets all of the requirements outlined above, but also provides automatic print inspection and color monitoring and correction.
We offer up to 3-color printing, with the ability to print on the front and back of paper substrates and on rolls up to 73 inches wide. We can help you add flawless images, logos, promotional messages, or artwork to your packaging materials to put you ahead of the competition. Contact Oren today to learn more.