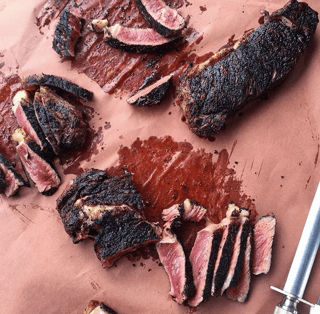 When anyone brings up smoking meat, barbecue, and how their last recipe turned out, chances are, the conversation is going to turn to pink butcher paper. After all, since Aaron Franklin exploded onto the Texas BBQ scene, he shared his foolproof method for the perfect beef brisket, and everyone noticed that he used pink butcher paper to ensure the best bark.
Suddenly, pink butcher paper was taking the BBQ world by storm and our paper converting company was thrilled to keep up with the demand. As this trend has evolved, the popularity and demand for quality pink butcher paper hasn't slowed down, but we have seen some opportunity in the market for new variations on this classic food paper staple.
That's why we're so excited about a new consumer product we're distributing through Amazon, and we wanted to share with all of our readers: Pink Butcher Paper Sheets!
Why is this such a big deal?
You're probably already aware of how popular pink butcher paper has become, especially as it's used in the world of professional and amateur barbecue. With its impressive moisture holdout and tensile strength, butcher paper provides the perfect medium for the "low and slow" cooking and smoking methods that embody traditional Texas BBQ.
Traditionally, pink butcher paper has always been available on rolls of varying lengths. And we proudly offer both consumer and commercial-sized rolls for both restaurant and backyard smoking and BBQ use alike. But even a smaller, consumer-sized roll of paper can be a bit of a commitment for those practicing with an initial barbecue project. One roll is enough for several dozen briskets or racks of ribs, so the BBQ enthusiast who's just starting to look into some fun DIY recipes could be overwhelmed.
That's where our new pink butcher paper sheets come in.
A convenient, affordable BBQ Enthusiast's Starter Kit
Each package includes a dozen sheets of FDA-approved, top-quality 18" x 36" pink butcher paper - the perfect size to single-wrap an average brisket - in a convenient resealable envelope. Since most recipes recommend double-wrapping, this kit offers professional-grade materials for six stellar BBQ projects and a great, proven recipe to get you started.
It's the perfect solution for people just getting into smoking and barbecuing meat, or for those who know what they're doing but only expect to be doing it a couple of times a year. Why cart around a heavy roll of butcher paper or risk it getting damaged or lost when you only really need a few sheets, which you can store right next to your smoker for when you need it?
Our brand new kit of precut sheets is made from 100% FDA-approved CounterKraft pink butcher paper, proudly made in the USA and distributed by Oren International, a leader in paper converting for over 20 years.
If you're interested in wowing your friends and family with some of the tastiest smoked and barbecued meat they've ever had, but you're reluctant to order a whole roll of butcher paper to make it possible, we encourage you to try out these new pink butcher paper sheets, available through Amazon.