It makes sense to see butcher paper playing an important role in a butcher shop or deli. But what about in your restaurant? What do you need butcher paper for there?
In fact, creative restaurant owners across the country have found many interesting uses for butcher paper beyond the standard meat-wrapping option that it's so well known for. Here, we'll introduce you to some examples of how restaurants are using two kinds of butcher paper, white and pink, to enhance their dining experience.
White or Bleached Butcher Paper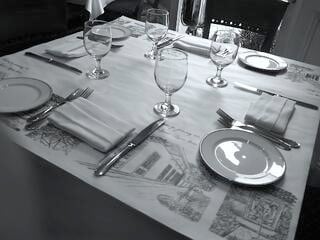 White (or bleached) butcher paper offers a crisp, clean look all on its own. It's proven ability to handle blood, oil, and stains make it a natural choice for wrapping meat, but it's being used for far more than that.
Bayona Restaurant in New Orleans is one example. They're located in a 200-year-old cottage in the French Quarter, and part of the draw in eating there – beyond the fantastic food – is the historic location. Capitalizing on this fact, they cover every table with a custom-printed white butcher paper table cover that displays professional sketches of the historic building.
Some other crafty restaurant uses for white butcher paper to are:
Branded sandwich wraps
Decorative display case shelf lining
Signage
Menus
Packaging for to-go orders
Pink or Peach Butcher Paper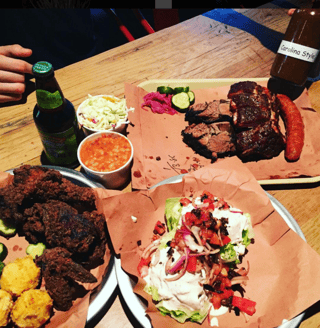 Pink (or peach) butcher paper is very similar to white in everything but its color. But, it's found its niche in a more casual restaurant atmosphere, especially as the accent of choice in the modern American barbecue joint.
These days, it's common for BBQ restaurants to smoke a beef brisket wrapped in pink butcher paper à la Aaron Franklin. It's also common to see sheets of pink butcher paper lining their trays, lining baskets, and wrapping sauce-covered sandwiches. A pink butcher paper cone full of French fries isn't too rare either.
Why this pink butcher paper craze?
Chef Rob Larman, owner of the Cochon Volant BBQ in California, summed it up this way:
"Pink butcher paper is aesthetic and functional. It gets the job done in the kitchen, and looks great to the customer too."
If you'd like to see how white and pink butcher paper can offer creative options for your restaurant, download our free guide for more restaurant branding examples or contact us with any questions!