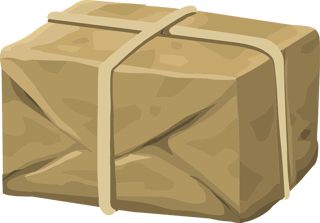 At Oren International, one of the key messages that we like to share is the fact that custom printed paper products can provide a lot of value for branding, marketing, and making the paper you use more attractive.
But there's another side of that message that we don't want to overlook. In some cases, a business may not want to blatantly advertise what's in their box. Or, the customer may prefer a more discreet package. If that's the case, plain white or natural brown kraft paper has you covered.
Kraft paper makes a neat and discreet outerwrap
Sneaking a brightly gift-wrapped package past a friend or loved one is nearly impossible, as we all know. But a seemingly innocuous package wrapped in plain brown kraft paper? It hardly elicits a glance. So, during this holiday season when your customers are running around getting everything prepared, perhaps you could make their life a little bit easier by first gift wrapping their presents and next wrapping them again in plain natural Kraft paper for an added defense against prying eyes.
Plain kraft paper keeps nosey neighbors at bay
If you run a business that does a lot of shipping direct to customers' homes, your wrapping papers can be an especially important consideration.
Especially around the holidays when many purchases are intended as surprise gifts for loved ones, shipping a branded package that clearly shows what's inside can be an obvious give away. But, once again, a package wrapped in plain natural, virgin, or colored Kraft paper showing up on the doorstep preserves the surprise.
Plain kraft paper keeps the most private gifts under wraps
There's virtually no limit to what can be ordered online, and, while that can be convenient, it can also mean more need for discretion to protect those who want to keep their personal orders just that - personal. Plain kraft paper wrappings for shipping and packaging materials can offer more discreet coverage, no matter the nature of the order.
For more creative ideas for both plain and custom printed kraft paper for shipping and packaging, download our latest guide below and contact us to learn more.