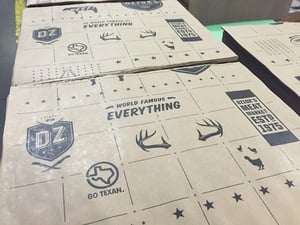 Life can be difficult, so naturally we find ways to keep things moving smoothly. For your next printing job, why complicate things by guessing how it works and creating confusion?
Instead of trying to wade through the ins and outs of flexographic printing, here are some of the most common printing questions answered by the experts to guarantee you don't lose any sleep.
To the average person, the differences between flexo printing vs offset printing might not matter much. When it comes to a custom printing project, it could mean everything. Here's what you need to know:
What exactly is flexographic printing?
Flexographic printing, or, "flexo printing" for short, is an affordable and highly versatile printing method that uses a rubber or soft plastic relief plate for printing. Using this method, the inks dry quickly and custom images or text can be printed on a variety of surfaces including many thicknesses of paper, plastic, cellophane, and metallic films.
How is flexo different from other printing methods?
Aside from flexographic printing, other popular commercial printing methods are offset, gravure, and ink jet.
Offset printing employs a rigid plate as well as a rubber blanket, which is then applied to the printing surface.
Gravure printing uses a metal plate mounted on a cylinder to apply an image to the printing surface, resulting in quality images.
Ink jet printing is computer based, so it's used often in digital print jobs. It is mainly used for paper, but can work to a limited extent on other substrates like plastic.
With these printing methods, image quality is usually always high, but ink might not dry as swiftly as it does with flexo printing.
Where does flexographic printing really excel?
Because flexographic printing offers faster ink drying times and can adapt to a wide range of materials and thicknesses, it's found popular use in many different industries, including:
Restaurants and grocery stores
Industrial
Tube and core
Construction
Companies will often use flexo printing to add a custom branding touch to otherwise bland packaging material, wrappings, construction floor board, or restaurant tray liners.
What's the best way to ensure a high-quality, low-cost printing job?
The quick drying times already make flexographic printing one of the fastest large volume printing options available. But, to really make sure you're getting a phenomenal product at a great price and as fast as possible, it's important your printer is equipped with a modern video inspection system.
Using video inspection, the job can be inspected while in production, which cuts down dramatically on time and money wasted due to errors that aren't caught until the entire batch is done.
Where can you turn for quality flexographic printing?
At Oren International, our experience and equipment ensures that we are the ultimate match for custom printing projects, big or small. For more information about flexographic printing, download our guide, the Insider's Guide to Flexographic Printing or contact us today.