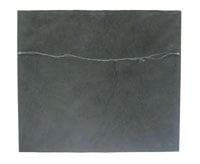 You are surely still swooning over black kraft paper's many creative possibilities, but have you taken the time to appreciate its most common and utilitarian use?
All framed pieces of art or photography should have the back protected, and black kraft paper is a popular material for the job. A dust cover is created when paper is attached to the back of the frame and trimmed to size to prevent dust, grime and insects from penetrating the artwork. But why use black kraft paper over brown kraft paper when it comes to framing? It comes down to 2 simple but noteworthy facts.
Durability
A high quality black kraft paper creates a durable barrier that covers the back of the frame and protects precious artwork. Black kraft paper will withstand the test of time. Lesser quality paper can become brittle over time and tear. Why risk having to re-frame in a few years?
Appearance
Be it the work of a true Master or the work of your littlest artist in training, give your artwork and photography the spotlight it deserves. Unlike our much-loved brown kraft paper for creating arts and crafts, black kraft paper provides a sophisticated, upscale look. The finished product is professional, finished, and suitable for even the most formal living rooms…or museums!
Oren International, a paper converting company, offers a variety of styles of black kraft paper in rolls or sheets. Are you using high quality black kraft paper for your framing needs?