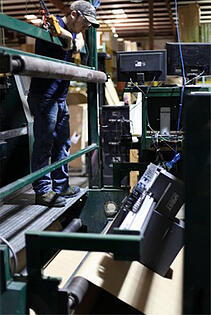 At Oren International, we are always looking for new, innovative ways to expand our list of services and upgrade our facilities to offer our clients the latest in paper converting technology.
We recently added video inspection to our flexographic printing services with the new Super Handy Scan 4000 with Smart Register and Automatic Color Monitoring. The PC-based system with high-resolution digital cameras ensures quality assurance for each print job to reduce waste, increase productivity and pass savings on to our customers.
3 Color Printing
To continue this trend, we are proud to announce the addition of 3-color capabilities to our flexographic printing services. With the increased proficiencies, each plate picks up a color, creating a more crisp color print with a tight seamless registration. This added feature opens up a world of possibilities for our customers with regards to custom printing, including 3 color logos, menus, food service paper, labels, rolls, packaging and more.
Typical products printed using 3 color flexo include brown corrugated boxes, flexible packaging, food service paper and sacks, self adhesive labels, disposable containers and tube cores. Flexographic inks have a low viscosity, which offers faster drying time and production output.
We are proud to be on the cutting edge of printing and paper converting capabilities, and we couldn't be happier to have even more options to help our customers better brand and market themselves.
Learn more about our innovative flexographic printing video inspection and contact us for a custom quote on our new 3-color flexographic printing services.