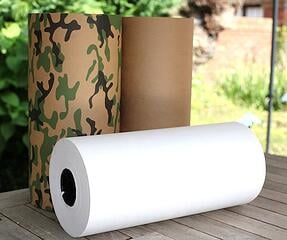 Many people in the food service industry need a special type of paper to store meat, fish and poultry in the freezer for extended periods of time. When searching for the right paper, a common mistake is to seek out wax coated butcher paper. Did you know that wax coated butcher paper is actually a thing of the past?
Clearing up the confusion
Before advanced coating products were introduced to the market, wax coating was used in an effort to protect paper from certain items like oil, grease or blood. Today, this paper is not coated with wax, but with polyethylene. So, when you search for wax coated butcher paper, what you are really looking for is polyethylene coated freezer paper.
What is polyethylene coated freezer paper?
Polyethylene coated freezer paper is FDA approved white or natural Kraft paper coated on one side with polyethylene that can be used as surface protection and for many other functions.

At Oren, we carry Sentry Brand Freezer papers for the most economical way to store meats, fish and poultry in the freezer for extended periods of time. The paper is specially crafted to conform to the shape of the food item being wrapped, while the poly coating zips moisture in to prevent freezer burn.

Freezer Paper is often used in delis, restaurants and grocery stores as a quick-serve sheet to wrap sandwiches, deli meats and cheeses. It is also used by butchers to store and preserve meat. We offer custom printing on our White and Natural Freezer Paper, like our camo freezer paper, including "Safe Handling" instructions or logos for custom branding. All Sentry brand freezer papers are FDA approved.
Standard grades available are:
• Sentry Shield Economy – 35/5#
• Sentry IceGuard Standard – 40/5#
• Sentry TopGuard Premium – 47/7#
• Natural Freezer Paper – 35/5#, 40/5#
We offer 15, 18 or 24-inch rolls of freezer paper and can cut any custom size width for your needs.
Want to find out how polyethylene coated freezer paper is right for your restaurant, deli or personal use? See how freezer paper preserves meat for all seasons.