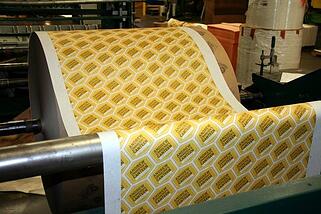 The buzz around food trucks has skyrocketed in the past few years, originating along the west coast and sprawling across the nation as mobile eateries have begun popping up on busy streets everywhere. From gourmet ingredients to unusual menus, food trucks are serving up BBQ, tacos, falafel and even crepes for customers eager to indulge. The food truck trend doesn't appear to be dwindling, and even big name restaurants and chefs are getting in on the action. At Oren International, we supply food service paper to restaurants of all varieties, including those on wheels.
Andrew Zimmern's food adventure
Television personality and chef, Andrew Zimmern's food truck, AZ Canteen, based in Minneapolis, MN, promises "A food adventure" with menu items like an AZ Canteen dog with homemade grain mustard and pickled jalapeño or crispy pork belly with green papaya salsa, chilies and a fried egg. With this adventurous menu, there's one ingredient missing: custom paper. We worked with an AZ Canteen marketing agency partner to supply custom printed food service paper that is used in the baskets and trays for the "Bizarre Foods" host's portable eatery.
Why make it personal?
If you use paper to wrap your sandwiches or line your baskets and trays, our 100% FDA approved butcher paper can be custom printed to brand your restaurant with your logo, artwork, or website information. Our butcher paper is available in rolls, or cut to specific sheet sizes. With custom printed paper, you can enhance your food and draw attention to your establishment, no matter what street you're parked on.
And did you know? Wrapping your sandwiches in custom printed butcher paper is only a penny more per sandwich?
When you wrap your sandwiches and line your trays or baskets in custom branded butcher paper, you make your restaurant that much more personal while your brand is literally in the hands of your customers. With up to 3 colors to add to your design, your customers will notice the difference.
Do you handle restaurant marketing or branding? Our paper converting company has lots of experience supplying food service paper to restaurants and agencies across the globe.