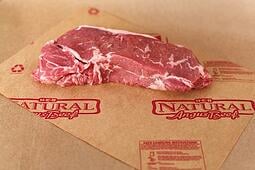 There is usually a lot of action going on in a grocery store. Each section serves a different need as shoppers weave their carts up and down isles, picking out what they need from meat to veggies and snacks. Whether you own or manage a national chain or an independent establishment, grocery stores are an indispensable part of modern day life.
Every grocery store is different, but there is one thing they all have in common: paper. At Oren International, we produce different types of food service paper to fit the different needs of your grocery store. Why is paper so important? Here are three ways paper is vital to your grocery store.
The butcher shop
For quality cuts of meat from your butcher shop, paper is key. For packaging steak and seafood, butcher paper is the standard for wrapping and protecting meat. For preservation, FDA approved freezer paper is a must for those interested in keeping meat fresh for longer periods of time. White and natural freezer paper can preserve meat for up to 12 months and prevent against spoilage and freezer burn. At Oren, we offer three different grades and roll sizes and can cut freezer paper to fit your needs.
Not only does paper protect and preserve meat, it helps your meat display stand out. Why hide quality cuts of meat in a Styrofoam tray or on bland piece of white paper? Allow your fresh meat to shine on a clean, bold piece of pink, black, green or peach colored steak paper. Colored paper makes an impact. Find out more on why there are different colors of steak paper.
The restaurant
For grocery stores that offer a built-in restaurant or dining area, paper can boost marketing efforts. When you think about the customers' dining experience, they are your audience while they sit and eat. Why not have custom branded butcher paper tray and basket liners for customers to view while they eat? Instead plain paper, entertain customers with your logo, menu, story or artwork. Read why custom branded food service paper is an inexpensive way to build your brand.
The deli
For deli foods such as sandwiches and wraps, butcher and polycoated paper wrap food neatly and keep ingredients contained. Butcher and polyethylene coated paper protect against moisture and grease and keep food safe for handling. Custom printing is also available so your logo or other brand statement can be printed on your sandwich wrap. After all, why wrap your sandwiches in plain butcher paper?
Looking for logo printed paper or specific sizes? Custom projects are our specialty. We're happy to talk to you about your custom food service paper needs that will help your grocery store stand out from the competition.