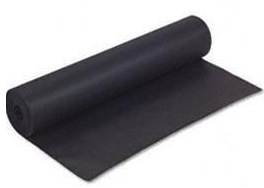 The cooler temperatures and colors off fall can be a breath of fresh air from the sweltering summer heat. At Oren International, we keep up with the seasonal trends, especially when it comes to paper. Black kraft paper is used for a variety of applications like backing for picture frames. But, if the picture framing industry is the only correlation you make with black kraft paper, its time to take a tour through the possibilities.
Like other kraft paper, it is smooth and relatively lightweight. Unlike other paper, the black coloring can help spice up projects to appear more dramatic or formal. We're taking a page from the fashion industry's book this month, and sharing some of the ways black kraft paper is the "new black" this fall.
Halloween must-have – What goes better with Halloween than the color black? Of course pumpkins, witches and candy all have their place, but at the core of easy, affordable Halloween decorations is black kraft paper. Use the paper to cover windows or doors, make placemats for food or make a scary black spider.
Sleek table runner – Cover your table for a birthday, holiday, office or craft party. The sleek style of a black paper table runner will provide a sophisticated look while keeping your table safe from food, drinks or paint. Black kraft paper would also make a dramatic table presentation in restaurants.
Stylish menu – Whether you work in the food service industry or you are an at-home chef, let black kraft paper make your menu look fashionably fall-ready. Change up the menu for your restaurant or dinner party by using black paper as a stylish foundation for printing, drawing or decorating.
Custom Designed wrapping paper – Like natural kraft paper, black kraft paper is perfect for wrapping gifts, with a twist. Take gift-wrapping up a notch with black kraft paper for a fashionable and formal look. Leave paper blank, or use stencils, chalk or decorations to dress up gifts. It's a haute look for gifts.
Are you ready for fall? At our paper converting company, we offer 36 by 500 ft. rolls of black kraft paper for a variety of uses. Let us know what you need!