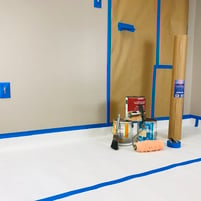 Between the equipment, materials, and foot traffic coming in and out of a construction site, it's important that floors remain protected in the process. To avoid scratches and stains, nearly all construction projects need temporary floor protection. Whether you are working on a residential renovation or a large-scale industrial project, take note of these four quick tips for using construction floor paper rolls on job sites
1. Prep the Surface
For your project to go off without a hitch, preparation is key. Whether you're working with new or existing concrete, wood, tile, stone, linoleum, vinyl, or something different, be sure to clean the surface well before laying out your paper cover. A clean floor will help prevent against scratches from trapped debris.
2. Look for re-useable paper
To get the most value from your construction floor board, find a heavy-duty, reusable product that lays out fast for the project. This will save you time and money while giving you peace of mind that your floor is protected. Once your construction paper is swept or vacuumed thoroughly, you can re-roll and store the paper in a secure place for your next project.
3. Remember your tape
Your construction floor paper only works as well as the tape used to secure it. After you roll out the paper and cut it to size, be sure to use a durable construction tape to keep your paper connected and in place.
4. Try it on other areas
Though it is mostly used on the floor, your construction board doesn't have to be limited to one use. Try protecting wall surfaces, stairs, or counters from water, paint or mud during an installation or renovation.
At Oren International we offer 6 different construction board and floor paper rolls:
Oren-Board HD™ 38" x 100' (Heavy Duty protection)
Oren-Board™ 38" x 100' (Standard Duty protection)
Oren-Liner™ 36" x 144' (Mediumweight protection)
Oren-Liner WT™ 36" x 144' (Mediumweight White Lined protection)
For more information about how our paper converting can help you with your next construction project contact us today and learn these 6 surprising things a paper converter can do.