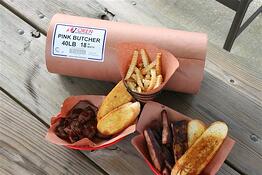 We can all agree that network television is not lacking in the competitive cooking arena. New culinary shows seem to pop up all the time, as chefs duke it out for cash, a restaurant renovation, or celebrity status. With more people interested in today's competitive culinary world, it's important for chefs to stay up-to-date with trends in their industry. Are you ready to show off your skills on a show like Top Chef? Whether you're an at-home cook or professional chef, here are 4 ways pink butcher paper could be your secret winning weapon.
1. Multifaceted
You probably know that butcher paper is great for crafts and is used in the food service industry, but did you know you can actually cook with pink butcher paper? From steak to seafood, butcher paper can help you craft an exceptionally flavorful and tender dish. Whether it's seafood prepared en papillote or brisket wrapped and smoked for hours, pink butcher paper is your new culinary tool.
2. Presentation
Chefs know that even the best dish can fail if it is presented poorly. Thankfully, pink butcher paper is not only enhances food presentation, but it serves a great functional purpose too, artfully wrapping sandwiches and meat to avoid a mess. Pink butcher paper is especially important to areas of the country where Barbeque is popular like Missouri, Texas, Georgia, Florida and Tennessee. Signature pink butcher paper makes meat and seafood look exceptionally delicious.
3. Quality
Not any butcher paper can do the job. To make sure your meal goes off without a hitch, keep in mind the quality of the paper grade. Look for certified FDA approved butcher paper for your wrapping, smoking or baking needs.
4. Simplicity
When your dish is up for critique, it's important to have your judges in mind. Though detail and garnishes can dress up a dish, sometimes the little things stand out the most. People have become accustomed to the look of pink butcher paper, which some stores and restaurants have been using for 50 years. In the world of BBQ, cooking with butcher paper has become even more popular in recent years. So, give the foodies what they want: A simple, delicious dish wrapped in or plated on pink butcher paper.
Want to learn more about how food service paper helps chefs and restaurants? Find out how custom branded paper can boost your brand recognition.