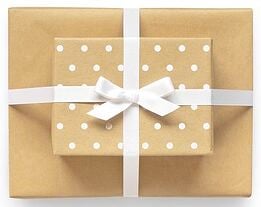 With the holidays fast approaching, there are dozens of different ways you can get into the holiday spirit while also boosting your bottom line.
One option that many restaurants, distributors, and other food service pros have found to be cost-effective and useful is custom printed kraft paper products for promotional and practical use during the holidays. After all, you already use paper all year long for wrapping merchandise and promoting displays. Why not take advantage of flexographic printing to offer holiday-themed paper? Here are few ways to show off your custom printed paper this season.

Table Coverings
Custom kraft paper table toppers with holiday-themed versions of your logo, a special holiday message for customers, or seasonal menu options instantly brightens up tables for the holidays. Regular and new customers will appreciate the themed look and feel of your business. See how one famous New Orleans restaurant turned their tabletops into art with paper.
Branded Gift Wrapping
If you traditionally give presents to your clients, suppliers, or other partners in business, why not add a touch of additional branding to the mix by wrapping those gifts in custom printed kraft paper that contains your logo and a brief, cheerful holiday message.
Holiday-themed Displays
Are you running any seasonal specials or in-store promos for the holidays? Why not order some printed kraft paper to line the display, decorate a backdrop, or wrap a display table to highlight the specials you're running?
With so many different kraft paper options available for custom flexographic printing, the potential for branded holiday paper is endless:
Virgin natural kraft
Natural recycled kraft
Black kraft
Colored kraft (in practically any color)
White or bleached kraft
Make the season brighter and choose up to three colors on your custom printed kraft paper for your restaurant or retail location. Contact us today to find out how we can help you take on the holiday season with custom kraft paper.