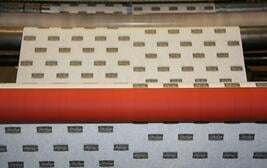 To the uninitiated, the printing method used for your custom paper product may not seem like a big deal. After all, as long as the ink gets on the paper and it looks acceptable, what does it matter, right?
Actually, there are some significant differences between two of the most popular printing methods, flexographic and offset, and these differences can translate into real benefits or hardships for you and your project. It pays to know the difference between flexographic and offset printing.

Offset Printing
Offset printing uses an aluminum plate coated to display the image to be printed. Due to the make up of the coating, the image itself retains ink while the surrounding areas on the plate do not.
After ink is applied to the plate, it is transferred (or offset) to a rubber blanket, which then applies the ink to the paper, or whatever material is being used. With offset printing, plates are relatively quick to produce and image quality usually remains consistent.
Flexographic Printing
Flexographic (or flexo) printing uses a soft rubber or plastic plate created with the images or type raised above the rest of the plate's surface. When ink is applied it only touches the raised surface. This rubber or plastic plate then transfers the ink directly to the paper or other material being printed on.
Because the plates are rubber or plastic, they are usually more affordable to create, more resilient to use long-term, and relatively easy to replace. Flexo printing also offers some flexibility in the substrates used to print on. Also, the lower viscosity inks used in flexo printing allow for quicker drying, which leads to higher speed and higher volume production.
Which is best for your printing needs?
Deciding on the best printing process will largely depend on the details of your printing job. Offset printing is a common solution for newspapers, brochures or books. On the other hand, Flexographic printing provides quick drying times and is great for modern printing needs in custom paper, food service paper, labels and packaging. Whatever your printing method, search for a paper converting company that offers in-line printing video inspection that help save money by reducing unnecessary waste from printing errors.
Ready to find out more about custom printing for your next project? Contact our paper converting company to find out more.