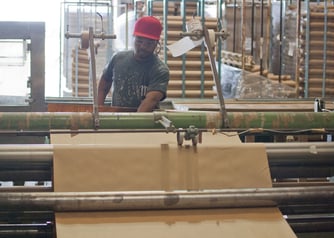 Kraft paper. It's white, brown, and mundane, right? Well call us biased, but we'd answer that question with a resounding "no!"
Kraft paper is actually extremely versatile and used in many products you see every day — as well as a few you probably don't. Kraft paper can originate from both virgin and recycled sources. It's available in different colors, weights, and sizes, and can be used everywhere from an industrial site to a restaurant, to a classroom. It's thin, yet durable and can be used anytime there's a need for wrapping, protecting, and separating things. And, of course, it can also be used for crafting something fun and unique.
Aside from the kraft paper you encounter in your daily life — in a retail shipment or at your local craft store — here are some of the more unconventional kraft paper uses for this versatile paper you may not be aware of:
Going bananas
Did you know that kraft paper plays an integral role in keeping bananas fresh during shipping? As it turns out, kraft paper — referred to as banana board — is perfectly suited for helping maintain the optimal temperature, humidity/ventilation and moisture conditions while bananas are being shipped to your local grocery store.
The recommended ventilation conditions require that fresh air circulates between 60 and 80 times per hour. Packaging bananas in perforated cartons made of kraft paper ensures that this proper air flow is maintained. These "banana boards" are sheets of linerboard perforated to allow air circulation throughout the entire carton. During shipment, two rows of approximately 8-10 bunches of bananas are laid in the bottom of the cartons and interweaved with these special linerboard sheets.
Medical applications
In the medical world, kraft paper is an integral part in the manufacturing of 95 percent of the suture needles in the world. It is used as a carrier sheet during the manufacturing process. This highly refined medical grade kraft paper was developed to carry the sutures from one manufacturing process to the next without any contamination and then further on to the final sterilization process before they are packaged.
Dynamite
Thanks to its durability, kraft paper is also used to make sticks of dynamite. Dynamite's main ingredient, nitroglycerin, was originally engineered in 1846. But, because it was so highly explosive — even more so than black gunpowder — Alfred Nobel sought to make it more safe, containable and usable. In 1867, his company, Dyno Nobel, created dynamite.
Kraft paper helps to encase this powerful substance. Dynamite is typically sold in the form of kraft paper cylinders, which are filled with a combination of nitroglycerin, absorbents, and stabilizers that keep it from exploding upon contact.
All the news that's fit to print
Newsprint isn't the only paper stock involved in the production and delivery of the newspapers people read each day. Kraft paper also plays an integral role as "bottom wrap" for newspaper bundles.
As the name suggests, bottom wrap is the wrapping that's applied to protect the bottom copy in a bundle of newspapers, and it's typically 40-pound natural kraft paper. Automatic baling machines at newspaper production facilities wrap kraft paper around the newspaper bundles as they come out of the counter-stacker. This wrapping helps to protect the bottom copy in a newspaper bundle from dirt and damage.
Kraft paper protected bundles of newspapers are delivered to the newspaper carriers for individual bagging and front-door delivery to subscribers.
Setting the scene in arts and business
Kraft paper's durability also makes it ideal for creating scenery and backdrops in applications such as photo studios or on the set of live productions. Because it can be purchased in rolls, sizes can be customized to fit a variety of settings.
Thanks to its versatility, kraft paper also serves a variety of everyday business needs. Natural recycled kraft paper, black kraft paper, colored kraft paper, and white kraft paper all have countless potential uses in just about every business. Printed kraft paper allows businesses to custom brand their packaging and other supplies, giving them a competitive edge.
If you'd like to learn about how kraft paper might benefit your business, contact us today.