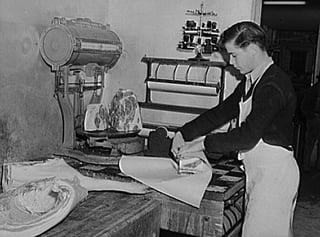 As a paper converting company that often writes about the benefits of using freezer paper, it might seem odd to ask the question in the title of this post. After all, is there even a question? Of course you should use freezer paper, right?
It does a great job of protecting meat from freezer burn and preserving flavor and freshness, and it's also affordable and highly versatile. Plus, you can easily write on it with dates and descriptions to keep your freezer organized.
What's not to love?
Well, in some cases there are reasons why you may be better off considering something other than freezer paper for meat storage. As your paper experts, we're here to guide you to find the best solution to fit your needs. Here are a couple questions to help decide if freezer paper is right for your meat storage.
How important is long-term freshness?
This is an important consideration.
Freezer paper is specifically designed to store meat and keep it fresh, sometimes for up to 12 months. It's coated on one side with a moisture and vapor resistant barrier, and the thickness and consistency of the paper help it create form-fit bond that will remove the air from the package.
Because of its simple, elegant design, quality freezer paper that is properly wrapped, makes a perfect seal around your meat, locking in moisture and flavor while sealing out air, which is what keeps frozen meat looking and tasting fresh.
What are you freezing?
Leftovers that will be reheated soon? Meat you plan to cook this week? Food for your restaurant or deli you will soon be using? While freezer paper will do an exceptional job storing all of these items, there may be a more appropriate fit. Butcher paper is a great option for short-term meat and food wrapping and storage that doesn't exceed several days.
Regardless of the material you use, maintaining safe handling of meat is essential. Be sure to look for butcher or freezer papers that meet strict guidelines and are FDA-approved.
Why to choose freezer paper
If your goal is colorful, flavorful meat that stays fresh for up to a year after you store it, premium freezer paper is your best bet, hands down. At Oren International, we offer Sentry brand freezer papers, one of the highest quality and most economical choices available. To learn more about freezer paper for your meat storage needs, or to place an order, we welcome you to contact us today.
Photo courtesy of https://www.loc.gov/