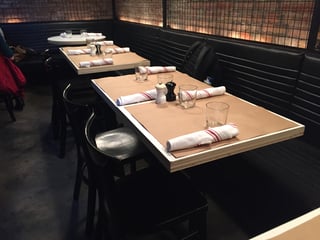 When you think of ways to improve restaurants, delis, and other food related businesses, the customer service, experience, and quality of food are probably the first things that come to mind.
While these are important aspects of a restaurant, making food service better also has to do with internal improvements such as boosting efficiency, spending wisely, and strengthening marketing efforts.
To achieve this, here are three examples of how paper converters are helping improve popular food service products familiar to many restaurants, food trucks and delis:
FDA approved butcher paper and freezer paper
While ways to freeze, preserve, store, and display meats and other foods is constantly changing and improving, the use of butcher paper and freezer paper continues to be prevalent today.
Butcher paper and freezer paper are both designed to provide excellent protection, based on your needs, and to fit snug to any size or shape item they wrap. Unlike butcher paper, freezer paper also includes a moisture-locking layer on one side that protects meat from the dehydrating effects of freezing.
By making both of these widely used products available in numerous sizes, roll lengths, colors, and weights, paper converters are adding versatility and economy of scale to one of the most cost-effective and functional food storage and display options available.
The fact that both butcher paper and freezer paper are available in 100% FDA approved varieties offers additional protection and peace of mind for food service owners and their customers alike.
Pink butcher paper for BBQ
Our pink butcher paper is engineered to be the highest grade of premium butcher paper available in the market. It does have one thing that other butcher papers don't have: It's famously and intrinsically connected to barbecue.
While white butcher paper will work just as well serving as tray liners and wraps for pulled pork sandwiches, it doesn't offer the same effect when smoking meats. For barbecue fans and pitmasters alike, pink butcher paper is just part of the authentic barbecue experience, and they want and expect to see it at their favorite BBQ spot.
Paper converters offering 100% FDA approved pink butcher paper (also referred to as peach paper) in both commercial and individual consumer quantities are helping food service locations boost marketing and customer satisfaction with this popular paper.
Custom printed food service paper
Branding and marketing in the food service industry can be challenging, as the competition is stiff and profit margins are often slim, making the budget to spend on huge marketing efforts limited.
One of the marketing tools smart restaurant owners have been using successfully is adding custom flexographic printing on the standard paper products they use every day.
For example, by adding a custom printed logo or marketing message to tray liners, table coverings, or to-go order packaging, restaurants are able to greatly expand their visual branding efforts and potentially bring in new customers. Custom printed butcher paper offers an opportunity to wrap every sandwich or basket of fries in a unique marketing message.
And it's not just limited to logos: many restaurants include menus, coupons, contact details, and many other messages to their paper products. The relatively low cost of custom printing on food service paper makes it easy to make frequent changes without overspending.
These three examples highlight a common trend in the modern food service industry: Continuing to find ways to successfully optimize core aspects of food service to control costs and focus on customer enjoyment.
As a leading paper converting company, we're proud to be a part of that. To learn more ways restaurants are benefiting from paper, see these 5 examples of dramatically improved restaurant branding.