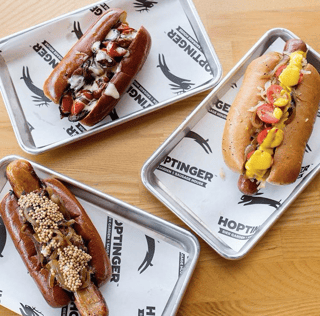 Competition in the foodservice industry is fierce and it continues to heat up. Thanks to cooking shows and celebrity chefs that have put foodservice in the spotlight, plain and simple no longer cuts it when it comes to the way food is wrapped and served.
These days, restaurant owners are raising the bar to keep pace with all of the bells and whistles patrons have come to expect. So, what have you done to improve your food wrap game?
Many in foodservice are capitalizing on the popularity and functionality of butcher paper sheets for wrapping and serving food in their establishments. Butcher paper sheets come in several different colors to jazz up whatever it is you're serving, and the paper can also be customized with your restaurant's logo, marketing message, or other creative to give it an even more personal touch.
And when it comes to wrapping and serving food, there are several challenges that butcher paper addresses:
Wrapping wet, messy, or sticky foods - There is no end to the types of foods that fall into this category. From food truck fare to the greasy burgers and saucy ribs served in brick-and-mortar restaurants, food can be messy. Butcher paper sheets are a great solution for wrapping everything from sandwiches, to sausages, to barbecue brisket, to gyros, and street tacos. FDA-approved butcher paper is manufactured with natural sizing to prevent moisture and grease from seeping through. That means less mess and happier patrons.


Storing and preserving wrapped food - If you're in the grocery or butcher shop business, freezer paper is the standard for packaging meats and seafood so your customers can safely and securely store them without worrying about freezer burn, or meat drying out or spoiling. FDA-approved feezer paper keeps meat fresh for longer periods of time. For long term storage, white and natural freezer paper can preserve meat for up to 12 months. Freezer paper is even available in camouflage print, which can be a fun option to offer your customers, particularly when they're ordering cuts of meats such as bison or elk. This will also help them identify these more exotic cuts of meat from their beef and other meats in the freezer.


Serving food easily and economically, with less mess - Precut sheets of butcher paper are ideal for serving food, as food items can be placed directly on the paper. Not only is this an economical option for restaurant owners, it's sanitary and offers easy clean up. It's also a fun and creative alternative to standard food presentation options, which will help you to differentiate yourself from the competition. By customizing your butcher sheets you'll stand out even more to your customers. Butcher sheets are ideal for wrapping sandwiches, and lining plates and baskets.
If you're looking to gain a competitive edge when it comes to wrapping and serving food, Oren International supplies butcher paper sheets and can customize your butcher paper with your restaurant or shop's logo or other marketing message.
Contact Oren today if you're ready to up your food wrap game!
Already using butcher paper in your restaurant? We'd love to hear how you're using it to wrap and serve food. Post a comment or photo on our Facebook page, or Tweet us @orenintl.