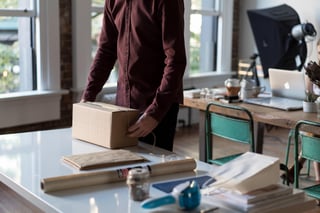 For businesses that ship items regularly to customers or individuals looking to ship a gift to a friend across the country, there's almost no end to the options available for you to choose. You can order boxes online, you can pick up shipping supplies at the local Post Office or UPS Store, and shipping materials come in a variety of shapes, sizes, and prices to satisfy every need imaginable.
The main trouble with this situation is that the cost of packaging can sometimes meet or exceed the cost of the shipment! And that's not cheap.
But there is one way you can save money on packaging without sacrificing the quality of the package or risking damage to the materials you're planning to ship. It involves using virgin and recycled kraft paper.
How does recycled kraft paper compare to virgin kraft paper? Virgin kraft paper is made from 100% new material, so it has excellent strength and tear resistance. It's also more likely to be uniform in color and texture, making it an excellent choice for aesthetic purposes, such as the outer wrap on a gift.
How can kraft paper be used for packaging and shipping? As noted above, virgin kraft paper can make a beautiful outer wrapping for gifts, especially if they're able to be hand-delivered.
For help choosing the very best kraft paper for your particular function, contact our paper experts to discuss your needs and options and learn about the 6 types of kraft paper and their best business uses.