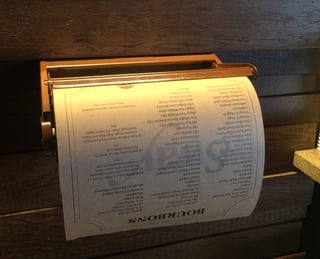 Recently, we talked about identifying the key traits you need in a paper printing partner to improve restaurant branding efforts. One of the traits we didn't include, which makes for a valuable bonus if you can find it, is creativity.
So this week, we'll take a look at one increasingly popular idea that makes paper for restaurants both a valuable branding tool and a memorably creative concept.
Get your restaurant branding on a roll!
Many restaurants already rely on rolled paper for their day-to-day operations. For instance, butcher shops (using both butcher paper and freezer paper), delis, barbecue joints (often using pink butcher paper), food trucks and a host of other restaurants and food services rely on these items as well.
Often, these rolls of paper are blank, either solid white or pink. Beyond the simple functionality of this paper, what if you could add even more value with a custom printed logo or some other marketing message on your sandwich wraps, tray liners, and the other paper products you use on a daily basis?
All it takes is a paper converting company using flexographic printing and a rewinding machine to turn a standard blank roll of butcher paper, freezer paper, or kraft paper into a custom printed branding tool for your restaurant.
Take it a step further with tear-off menus, table covers, and placemats.
With a pre-printed message included on a paper roll, it provides the perfect opportunity to implement an easy, affordable and trending way to transform menus, tabletop covers and placemats: tear them directly off the paper roll.
In our guide, "5 Examples of Dramatically Improved Restaurant Branding" the following story of one restaurant that used the rustic look and feel of recycled kraft paper to emphasize their unique brand by printing their menus on it.
"With over 20 locations across the U.S., Brick House Tavern and Tap keeps things lively with unique burgers, beer, and crafted cocktails. To fit their rustic and original theme, the restaurant printed its menu on recycled kraft paper as a way to further reinforce its brand."
Now, just imagine taking the custom printed kraft paper roll to a whole new level of functional and memorable branding by creating a large, tear-off menu that gets handed to each customer as they walk in. Some restaurants are also enjoying the aesthetic of a large posted food or drink menu on a butcher paper roll fastened directly on the wall.
To see more examples, read our free guide below to help brainstorm some more great restaurant branding ideas using custom printed paper. Have questions? We welcome you to contact us, or read this post showing 2 beautiful examples of butcher paper for restaurants.