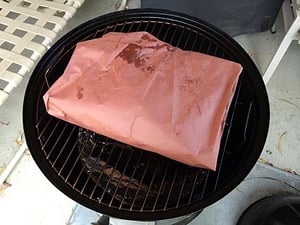 The popularity of brisket smoking has absolutely skyrocketed in the last few years. Riding the wave created by Aaron Franklin, celebrity BBQ expert and owner of Franklin Barbecue, this classic Texas Barbecue dish is being savored by carnivores worldwide.
Between all of the sizzle and smoke, there's a piece of the puzzle that could be overlooked: perfect brisket actually starts with pink butcher paper, sometimes called peach paper or barbecue paper.
Here's what Aaron Franklin has to say about why he uses Oren Pink Butcher paper to wrap his world famous BBQ brisket:
"The briskets need to stay covered so that the bark doesn't get ripped off of them when they're being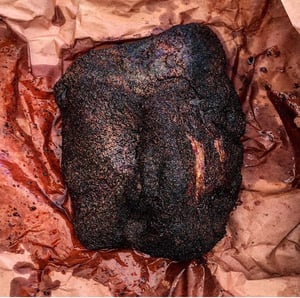 thrown around. We also wrap them once we know we've gotten a certain amount of smokiness. I started using paper because it was cheaper than foil. Foil also gets things real steamy. It's known as the "Texas Crutch" and it would be embarrassing for me to use foil on briskets… I think foiled briskets end up a little pot-roasty for my taste, and the paper breathes a little better… It's really there for protection, but an added side effect is that it helps retain moisture."
How to cook the perfect Texas BBQ brisket
Beyond using the right paper, the quality of the meat and the skill of the cook are huge factors in creating the perfect brisket. Here's how to get started making a sweet piece of meat using Pink or Peach Butcher paper.
There are plenty of opinions on how to make the perfect brisket. Here's one we loved, provided by the makers of the Weber Bullet smoker:
Buy a 6-8 pound USDA Choice brisket flat.
Do not trim the fat side. Remove any fat and silverskin from the lean side.
Apply a 50/50 kosher salt and coarse ground pepper rub just before cooking.
Cook the brisket fat-side down at 250-275°F to an internal temperature of 165°F.
Wrap in Pink Butcher paper and continue cooking until 200-205°F and probe tender.
Rest in paper for 30 minutes before slicing.
To find out more about our Pink Butcher paper for your next barbecue event, we welcome you to contact us today or read our full guide to the most popular butcher paper uses. For our at-home chefs, we offer consumer-size 18" X 200' rolls and 24" X 200' rolls of Pink Butcher paper direct via Amazon.
Once you have your Pink Butcher paper in hand, follow the recipe above, or make up your own, and let us know how your classic Texas BBQ brisket comes out!
Images courtesy of virtualweberbullet.com