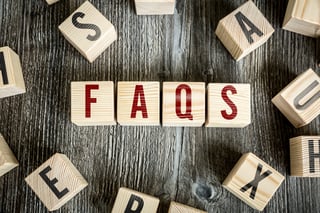 Ordering paper is a function of business that often becomes routine no matter the industry. Whether for restaurants, corporate offices, retail stores, or shipping logistics, after awhile, the same order is placed repeatedly, week after week or month after month. If you're the person ordering paper for your business, your options are limited to what you've been doing.
In reality, however, there are usually options available that may be a better fit for your business. Ultimately, it just comes down to asking the right questions of your paper supplier.
Whether you're looking to change up your typical order, or you're searching for a new paper supplier, here are some of the questions you'll want to ask.
1. Is there a minimum paper order?
As a buyer, you'll need to know what their minimums are in order to determine if you're working with the right supplier for your industry, and to make sure you're getting the best and most cost-effective ordering option.
Depending on the industry you're in, your paper supplier may have a minimum order requirement — in fact most do. For the majority of paper suppliers, minimum orders are a matter of production efficiency. They're designed to keep costs under control, and theoretically, those cost-controlling measures should trickle down to you in what you pay.
Because Oren International is a speciality paper converter, we do not require a minimum order. Our paper orders can be customized and accommodate varying order sizes.
2. Can I order custom sizes?
Many paper suppliers offer a variety of sizes, but only those sizes and many cannot accommodate custom sizes and orders. There may be equipment/production restrictions, or the customization may be too costly for the supplier to justify the offering. It's important to ask if there are restrictions in the event that your needs change in the future.
Skilled paper converting companies, however, have the ability to provide very specific paper sizes for a variety of needs. Because we supply paper for a number of industries, we make it a point to make customization an option for our customers.
3. Can you print on the paper?
Branding is essential for businesses of all types these days. With increasing competition in every industry, it's important to stand out. Custom branding offers your business a competitive edge. The trend of custom branding on paper has gained massive traction in the foodservice industry, for example, with restaurants printing everything from logos to menus on rolls and sheets of paper.
Many paper suppliers don't offer custom printing, and if they do it can be extremely cost prohibitive depending on the printing method used.
Look for a versatile partner who can offer custom branding on all of the paper they offer. For example, with flexographic printing technology onsite, custom branding can be provided at a competitive price. Flexographic — or flexo printing — is essentially a modern version of the letterpress used to print on paper and other materials. Because water based flexo inks have a low viscosity, they dry faster, therefore offering speedier production and lower costs. Besides restaurant applications, flexo printing can be essential to the functionality and success of tube and core paper, paper for packaging and shipping, and more.
4. How soon can my order be ready?
This is a big one. You need to make sure your paper supplier gives you an accurate estimate as to when your order will be received. Because lead times vary, the typical paper order takes about two weeks. You'll want to make sure that your supplier can meet any unique delivery needs your business may encounter due to special events, etc., when you may need a rush or special order.
5. What will my total cost be?
Total cost is an important question to ask because that's what actually matters to your business' bottom line. Even if your paper order itself is priced competitively, that amount can skyrocket when shipping costs are factored in. Always make sure to get an estimate for shipping as part of your total cost consideration.
Also make sure to find out if your supplier charges extra fees for pallets, packaging, labels, handling fees, or other incidentals. That way you will really know your "total cost" before you place an order.
6. What are the payment terms?
Many paper manufacturers and suppliers offer credit terms for qualifying customers. The terms can range from 15 to 30 or 60 days. This can offer the benefit of deferring a large payment for a short amount of time.
Other suppliers might require cash on delivery (COD), or pre-payment with a check, wire transfer or credit card before they'll fulfill your order. It's important to know the expectation from the start to avoid any unexpected late fees.
7. Under what conditions will my terms change?
Consumables — especially paper — fluctuate in price. This is not a product where prices stay the same year after year. Sometimes they go up and sometimes they go down. Your paper supplier should account for this fluctuation in the price they set. Still, make sure to ask how often you can expect a price fluctuation and the potential market changes that could make price go up or down.
Clearly communicating your paper needs
Aside from these basic questions, it's important that the paper supplier you're working with has an understanding of your business. It's a good idea to develop a rapport with one or two people at your supplier with whom you communicate your business needs, and then deal with them regularly.
Explain to your supplier the end use for your paper and any future uses you may need. Communicate whether the paper you're using will serve a single need and function or if it is for a multi-use applications.
It can be a challenge to develop a level of rapport with someone dedicated to helping you achieve your business' goals when you're working with a very large supplier, but it's important to do so because all of the factors mentioned above can impact your order.
At Oren International, we work closely with each customer to ensure we understand their specific needs, as well as the current uses and potential future uses of the paper we supply to them. We develop a partnership with our customers so that we can work with them to customize their orders and help them gain the most benefit for their business.
If you'd like to learn more about how we can fulfill your paper needs, contact us today.