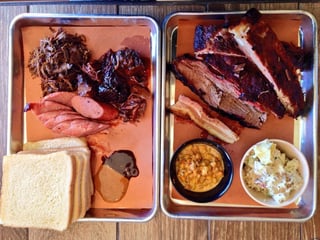 If you've been using paper in your restaurant, deli or butcher shop for wrapping or handling food, you may think all paper is created equally. Not true, however. Paper is often marketed as food grade butcher paper when it isn't actually FDA-approved to meet the requirements for safe food handling.
For example, kraft paper is widely used in the American foodservice industry. While kraft paper is useful in many scenarios, it is not always FDA-approved, food-grade paper, and may not the best choice for wrapping or serving food in your restaurant, deli, or shop. In your food service business, non-FDA approved kraft paper is better used to cover tables and other surfaces, or as a creative paper menu on rolls or on pre-cut sheets.
When it comes to serving food, however, using the proper food grade butcher paper will help your business improve safety and increase customer satisfaction.
Market safety to your customers
Besides keeping your restaurant, deli or butcher shop free of the chemicals that are often present in other papers, the use of FDA-approved, food-grade butcher paper can also serve as a powerful marketing angle at a time when Americans are more conscious than ever of the safety of the food they're consuming.
And, it's no wonder they are. Consumers are regularly inundated with news of the mishandling and jeopardized safety of the foods they're eating. In February, the Environmental Working Group released the results of a study that found 40 percent of fast-food packaging materials contain harmful chemicals, including fluorine. That's the same toxin that got DuPont's Teflon products banned from the consumer market after it was linked to a number of health issues, including cancer and reproductive problems.
These days, those in the food service business need to be more diligent than ever before about the packaging/serving materials they're choosing. Your customers want to know that you're following the rules and care about compliance when it comes to serving them food in the safest way possible.
Know your paper
So, how do you know if the paper you're using meets the necessary food safety requirements? Just because a paper stock is marketed as "butcher" paper, doesn't mean it is an FDA-approved, food-grade butcher paper.
The paper should include a certification from your supplier that it is 100% FDA approved and rolls or sheets of paper will feature a stamp indicating the same
FDA-approved butcher paper is the most versatile choice when it comes to meeting all of the needs of your restaurant or deli. It's ideal for wrapping hot and cold foods, and for packaging beef, fish, and poultry. Like its kraft paper counterpart, butcher paper can also be used to cover tabletops for a crisp, clean restaurant presentation. Learn more about the most popular butcher paper uses in our guide.