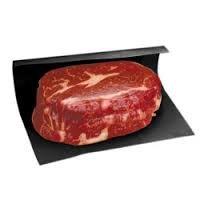 The average person probably might not give the color of a piece of paper that sits underneath a raw steak a whole lot of thought. At least not consciously.
But as a butcher or deli owner, you know that subconsciously, little details like that are important. They can mean the difference between a customer glancing at a piece of meat and moving on or staring at it and getting hungry. Ultimately, it can mean a sale.
So how does your meat look?
The Power of Quality Colored Steak Paper
When a steak is displayed in a blasé manner, say in a Styrofoam tray or packed tight into a metal pan on the display case shelf, it just looks like any other piece of meat. It has no personality, no gusto, no… sizzle!
But, standing alone on a square of bright green or pink steak paper, that cut of beef really pops! It jumps out at the customer and gets their mouth watering. A black piece of steak paper can highlight the premium quality of a choice cut like filet mignon by giving the meat a sophisticated and eye-catching backdrop.
Likewise, a bright peach sheet of steak paper can make light colored meats like pork, poultry, and white fish look more vibrant, appealing instantly to those customers who avoid red meat. In all these cases, the effect is subtle but undeniable. Steak paper makes your meat look good.
Plus, it helps reduce blackening and spoilage, making your meat look fresher longer. And it's highly durable so it can withstand rough handling the busy butcher or deli case arranger is likely to require.
If your deli case or butcher display needs a facelift and you want to start selling the sizzle instead of just the steak, it might be time to consider using colored steak papers. Contact our paper converting company to discuss which options are best for you.