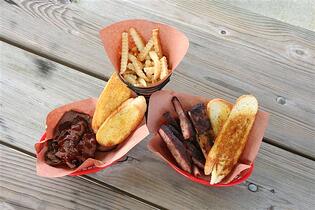 Barbecue is as much art as it is skill. It's not just the act of throwing some ribs on the grill. It's the act of transforming a slab of raw meat into a delectable feast for the senses. And true barbecue artisans take it very seriously.
A few years ago, one of those artisans, a restaurant owner and barbecue aficionado by the name of Aaron Franklin began making entertaining and informative videos and posting them on his channel on YouTube.
One particularly popular series of videos described in detail how Franklin prepares and barbecues a beef brisket. Along the way, over 360,000 viewers watched him wrap the brisket in pink butcher paper for the last several hours in the smoker and a legend was born.
Though Franklin notes that a lot of barbecuers will use aluminum foil for this purpose, he considers this "the Texas crutch" and prefers to use butcher paper instead. When the question started coming up as to what kind of paper he uses and how he came upon it, his answer was simple. As far as he was concerned, it was just regular pink butcher paper that he'd always used.
"I don't know what else you would use." he noted, leaving many of his fans in the dark.
But, as the largest nationwide provider of the CounterKraft brand FDA-approved pink butcher paper Aaron Franklin uses, we know exactly what makes it so special!
It's FDA-approved: guaranteed to be of the highest quality for safety purposes, and it's perfectly safe for food handling, cooking, and storage.
It's non-coated:

Some might make the mistake of trying to barbecue with wax paper or freezer paper, both of which contain a thin coating for moisture protection. This coating can melt at high temperatures and affect the flavor of the food.
It's available in many different sizes: Widths of 12", 15", 18", 20" or 24", and rolls as long as 1000 feet (for commercial use) or as short as 150 feet (for consumer use.) It's both versatile and economical.
It's proven to provide superior holdout: whether you're cooking, displaying, or storing food with this paper, it holds up well against moisture.
It's customizable: If you'd like, you can have your restaurant logo or any other custom messaging printed on pink butcher paper.
It makes food look great:

Sure, this is subjective, but many chefs and restaurant owners have decided that the appearance of pink butcher paper fits perfectly with their food's look and feel. It's used often as a basket or tray liner, sandwich wrap, or cooking wrap, especially in barbecue. Learn more about the most popular uses for butcher paper.
While pink butcher paper might sound like a basic option for grilling or smoking meat, it's clear that it is the best choice for delicious barbecue. If you are ready to take advantage of all that pink butcher paper has to offer, contact us now to place an order! For barbecue tips straight from the pros, get our guide, BBQ Secrets Revealed: 4 BBQ Experts Share Their Tips for Using Pink Butcher Paper