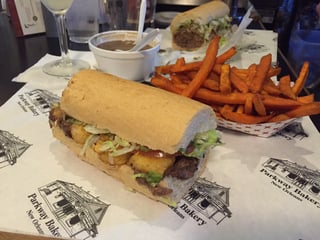 Branding efforts for a restaurant can require a large budget.
As any restaurant owner or restaurant marketing agency knows, the food service industry is incredibly competitive and it's difficult to differentiate and make your name, logo, and location stick in the minds of customers to ensure repeat visitors and organic, ongoing growth.
While there are many ways to promote a restaurant, they range dramatically in effectiveness and cost. If you're interested in getting the most bang for your branding buck, it's important to seek out low cost and high performing resources for branding your restaurant that are easily sustainable over time.
So, why is printed butcher paper the most affordable restaurant branding tool you'll use all year?
Custom printed butcher paper is fast, flexible, and affordable
You may be using butcher paper already if your restaurant uses baskets and trays, offers carry-out orders, or if you sell fresh meats. There are several important aspects to look for to leverage your food service paper as a branding tool, such as flexibility, speed and price.
If you're interested in learning how custom printed butcher paper can help boost your restaurant branding efforts this year, be sure to click the button below to read our full article and get more tips and read our guide on the most popular butcher paper uses. Have questions? Feel free to contact us to learn more about food service paper and custom printing options.