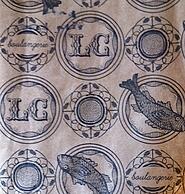 Restaurants often allocate a marketing budget each year to help build brand recognition. Though traditional marketing efforts can help get customers in the door, what can restaurants do to remain memorable during the dining experience? Aside from serving delicious food or drinks, creative solutions like custom branded sandwich wrap can help restaurants separate from the pack. La Colombe, a coffee company with locations in New York, Philadelphia, D.C., Chicago and Seoul, South Korea, recently worked with Oren on their latest restaurant paper order. The custom printed paper helped the company accomplish not one, but two goals for branding. Here's how:

The challenge:
La Colombe's graphic designer reached out to Oren International with a need for natural freezer paper for wrapping sandwiches. The coffee company was preparing to begin serving food at one of their first café locations with a full kitchen, and wanted to wrap sandwiches in custom branded paper.
The solution:
Our team requested the artwork from the company, and printed the design on custom cut sheets of freezer paper for sandwich wrap at their new location.
After the first product was created, La Colombe discovered a second need for custom printed paper. Rather than food service paper, this time La Colombe requested Kraft paper for packaging purposes. Again, the company sent a custom design to be printed on sheets of paper to be used as interleaver sheets to enhance their coffee packaging. Because Kraft paper is a customizable and environmentally friendly shipping material, many businesses use natural Kraft paper for shipping instead of Styrofoam peanuts to promote their brand.
With customized paper, La Colombe can now heighten their brand awareness and dress up their coffee shipments as well as their sandwiches.
"The product that Oren produced was awesome. The finished product met our needs and is very good quality," said Danielle, Graphic Designer for La Colombe.
Does your business need custom printed paper? Whether its butcher paper, Kraft paper or freezer paper, as a paper converting company we can customize your project to enhance your restaurant marketing.