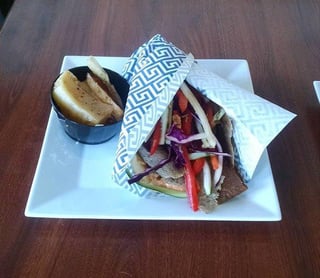 It's not uncommon for butcher paper to be found in many food service establishments across the globe. It's simply becomes one of those standard supplies every restaurant or deli owner needs to have on hand for a variety of uses.
Some restaurants and delis order custom-sized butcher paper as sheets for easy and quick use. So, what are the best ways to use your pre-cut butcher paper sheets? Is it possible you're not using them to their full potential in your deli or restaurant?
To wrap meat: This shouldn't come as a surprise. Butcher paper was invented - as the name implies - to wrap newly butchered meat. It goes without saying, if you're cutting and serving fresh meat for carryout, butcher paper is a natural fit.
To wrap sandwiches, burgers, and more: In fact, all of the same qualities that make butcher paper perfect for wrapping fresh meat also make it the perfect wrap for hot or cold sandwiches, hamburgers, hot dogs, gyros, bagels, and more.
To wrap up leftovers: For restaurants where your customers come in and sit down, a butcher paper wrap could make a convenient wrap for leftovers they want to bring home with them.
As a unique, inexpensive table covering: As an added bonus, paper table coverings can be ordered with custom printing to include a marketing or branding element to each table's decor.
As a tray liner or placemat: This has become a huge trend in the barbecue world where pink butcher paper (also known as peach paper) has become almost synonymous with juicy Texas BBQ.
Without a doubt, butcher paper has proved its worth as a staple supply in restaurant kitchens, delis, and butcher shops around the world. Want more ideas? Read our ultimate guide to the most popular butcher paper uses. To find out how we can supply custom butcher paper sheets for your business, contact us today and be sure to read the full article on this topic below.