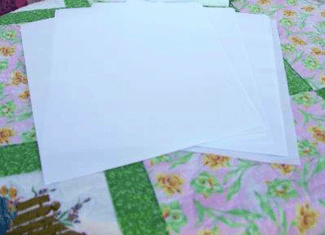 If you love DIY projects then you're probably always looking for the next best thing when it comes to supplies that can simplify your undertakings and make them more affordable.
If you're into stenciling, freezer paper is one of those tools that can drastically simplify the process of transferring a design onto the fabric of your choice.
Learning to use freezer paper as stencil paper can open up a whole new world of possibilities for image transfer in DIY crafting. It can be used to create the graphic for a screen printed t-shirt, or to add a vibrant and beautiful design to a quilt or pillow. And it's a tool you can put to use for a much lower price than many of the image transfer tools and gadgets you'll find at your local craft store.
If you're interested in using freezer paper to create stencils for your next DIY project, you may have some questions. Here are three that frequently come up from crafters looking to implement freezer paper into their DIY projects.
Q: How can I use freezer paper to create an image for my t-shirt, quilt, wall hanging or other DIY project?
Answer: There are two ways to use freezer paper for creating images on your fabric of choice:
You can use it as a stencil by placing an image on the paper to guide the cutting of your desired design with an X-acto knife. You can then apply paint or bleach to your fabric to bring the cut out areas to life.

You can use it as a shield by cutting the paper in the shape or design you want, you can apply it as the only spot that retains the color of the shirt or fabric you're creating.
Question: Will freezer paper adhere well to my fabric for image transferring?
Answer: Yes. Any fabric that can be ironed onto is a good candidate for freezer paper stenciling. Because freezer paper is polycoated on one side, it will adhere to fabric with a warm iron to help bring your design to life. Note we said, make sure it's warm (not hot!). Using a warm iron, with the coated side of the paper down, iron around all edges of your stenciled image in order to create a seal that will keep it in place.
Question: What is the best kind of freezer paper to use for image transfer in DIY crafting?
Answer: You'll want to select a quality grade poly coated paper that is coated on a single side. While you can purchase small rolls of freezer paper, it's more cost effective to purchase it in larger quantities if you will be using it frequently for a variety of projects. Flat sheets of pre-cut freezer paper are convenient for crafting as they are easy to apply to fabric of all sizes. In fact, you can order them here on Amazon!
To learn more about freezer paper for crafting, we welcome you to contact us today and click here for more ideas to "get your craft on" with freezer paper.