Oren International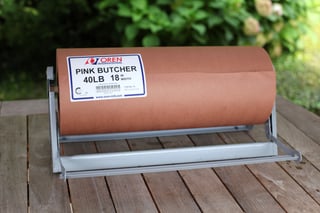 is one of the largest and busiest paper converting companies in the nation. Because of that, we often look at paper in high volumes: 50,000-foot long rolls and two-ton pallets aren't uncommon.
Unlike large volume orders we deliver for our paper distributors or manufacturer partners, when it comes to consumers, orders can come down to individual rolls and sheets. So, we thought it would be fun to step back today from our "big paper" view and explore the impact just one roll of butcher paper can make on a restaurant or deli.
Where does it go? What does it do? Who does it come across? Let's find out.
The start of a journey
In this case, we'll follow a roll of 18" x 1000', pink butcher paper.
In our facility, 1000 feet of butcher paper moves pretty fast. It's typically coming from a master roll of up to 46,500 feet and going through our machinery to be converted into smaller dimensions within minutes.
Then, it's carefully inspected, packaged and shipped out.
We send paper all over the country as well as internationally. For this example, let's say this roll of butcher paper is heading to a customer in Anchorage, Alaska.
The end of a journey and the beginning of an adventure
After a cold and bumpy ride over the course of 4-5 days, the butcher paper arrives at the door of Bob's Alaskan BBQ. Bob just opened his restaurant last month and he's still perfecting his smoking methods.
He's read articles and watched videos about Aaron Franklin and other pitmasters who rely so heavily on pink butcher paper, sometimes called peach paper, for their BBQ recipes, and he's determined to try out this method on his own.
Bob tears open the roll and gets to work. Ultimately, the butcher paper serves Bob well. Over the course of the next few days, he uses it to wrap briskets, store ribs, as an authentic-looking tray liner and place mats for his finger-licking masterpieces. It helps to make the food look even more appetizing, and anything he uses it for in the smoker tastes perfect when it comes out.
If Bob's Alaskan BBQ is typical…
Bob and his BBQ joint don't actually exist, but if they did, here's what he could probably get out of a 1000 foot roll of butcher paper over the course of several weeks:
500 beef briskets, wrapped and smoked, or
1300 pulled pork sandwich trays served, or
1000 meatball subs to go, or
2000+ paper cones full of Bob's famous fries, or
That's a lot of value from one roll of butcher paper! Just like in this example, many restaurants are serving up perfectly smoked brisket and authentic BBQ on Pink Butcher Paper to their loyal customers. At Oren International, we're proud to be a part of that. Ready to find out more things a roll of pink butcher paper can do? Read our guide on the most popular butcher paper uses, or contact us to learn more.
Don't own a barbecue restaurant? We offer smaller consumer rolls for our backyard pitmasters as well, simply click the link to order a roll on Amazon.