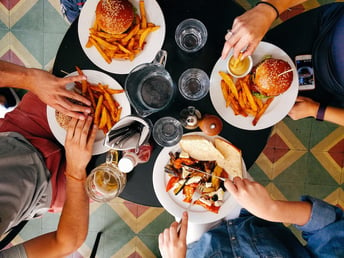 No matter what menu options you offer, where you're located, or who your head chef is, every restaurant can benefit from some quick, cheap, and easy marketing wins to help boost sales and give yourself an edge on the competition.
While restaurant marketing covers a wide range of possibilities, there are some "low-hanging fruit" you can probably implement or improve immediately to move the needle in the right direction.
Using social media for restaurant marketing
You may already be using social media to an extent, but are you truly getting the most value from this powerful source of inexpensive, targeted, marketing and community building?
Here are some ideas to consider as you review how your restaurant takes advantage of social media for marketing, and where there's room for improvement:
Instagram, Twitter, and Facebook are easily the three hottest networks a restaurant should be focusing on. If you don't already have dedicated social media accounts for your restaurant, set them up immediately and start connecting with customers in the local area.

People love to take pictures of what they're eating and post it on Instagram, Twitter, and Facebook. It may seem strange to generations who grew up without digital cameras in their pockets at all times, but it's undeniable trend today. Are you paying attention to presentation so that an Instagram-worthy photo is quick and easy for your customers to create?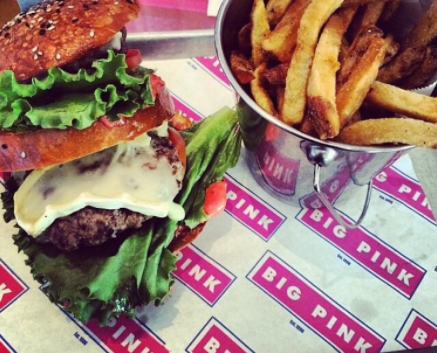 This is an Instagram hit in the making, and nicely includes the restaurant's brand.
Have you tried running photo contests on these networks? It could involve food pictures by customers, or some other themed concept involving your brand or location. Anything goes, really, because the whole purpose is to give customers something fun to do while further building the bond that belonging to a larger community provides. Establish a hashtag for each contest and promote it on menus, signage, and via waitstaff.

Finally, many restaurants have benefited greatly by promoting special offers, discounts, or events to their social followers only. This provides great incentive for customers to like your page - which has its own ongoing marketing benefits - but also further enhances the community aspect that social media so effectively promotes when done well.
In all these cases, the real goal for your restaurant is not just to fill up your customers' social feeds with ads or offers begging them to visit. Rather, it's about using the tools and behaviors your customers are already comfortable with to gather them around your restaurant as more than just a quick bite to eat, but as an experience.
Discount cards, referrals and loyalty programs
While fast food and fast casual restaurants have long employed discount cards, referrals and loyalty programs to encourage customers to return, they're effective for any style of restaurant. So, if you've avoided setting up a loyalty or discount program because of hesitation about whether or not it fits your restaurant's theme, you may be missing out on a lot of great return business.
It doesn't always have to be a business card with boxes on it that your cashier punches out while they're ringing up a purchase. That may be perfectly fine at a coffee shop counter or when buying a burger, but there are other options to fit different environments.
With smartphone apps available for just about every kind of loyalty/referral/discount program concept you can think of, it's easy to create a discreet, sophisticated option that your customers will take advantage of. And gaining access to their smartphone also offers tremendous marketing potential going forward in the form of texting ads, push notifications, and location-based marketing, so your initial investment in developing the program could provide a healthy return in short order.
Take advantage of branded food service paper
You probably noticed the branded tray liner used in the Big Pink images above. Custom printed butcher paper or kraft paper can be extremely powerful branding and marketing opportunities available to your restaurant considering the price.
Depending on what and how you're serving customers, branded food service paper can create a memorable marketing message on all of the following and more:
Printing your restaurant's logo, contact information, or some appropriate marketing message on the paper products you already use to display and protect food is definitely a quick and easy marketing win for any food service location.
We hope this brief list of ideas has gotten your creativity flowing and that you're coming up with some great marketing experiments of your own to try.
As you work on boosting your Facebook or Instagram engagement figures, and finding resources for developing loyalty program options, look to us when it comes to using custom printed butcher paper or kraft paper for restaurant branding.
Download the free guide below to see five great examples of how this tactic has helped some other restaurants improve sales and brand recognition without breaking the bank.